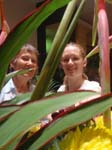 Melaka - 1st day
So Sarah Adams (Sarah is the FEI grand jury) and I arrived at the Everly Resort into a chaos of military uniforms and soldiers, there were hundreds of them, in the hotel, in the elevators, lobby, on the beach, everywhere...
We soon realized they are having a combined training of the Malaysian and Indonesian army, exercising on terrorism attack situations, There are signs announcing there might be gunshots, bombs,... and there were, Sarah and I were having coffee/tea when we heard a bomb!!!
Well, luckily today was the last day, there is a giant party tonight, music in the courtyard and dressed tables. I guess it's related.
Hamdan was very busy today and we did get to meet him, so Sarah and I decided to go into Melaka on our own, what a lovely city, the mix of Portuguese and Asian architecture is very interesting and works quite well, it's a very colorful city with a smiling person at every corner.
Sarah has just flew from Melbourne and me, well you know, I have travelled for almost 24 hours, so both decided to treat ourselves to a massage, boy did that feel good, I felt asleep for a little while and thought i would never get up (usually massages put me in a sleepy mood), it was the contrary, I felt rejuvenated, the masseuse was fantastic, finding the knots and getting rid of them slowly, hmmm marvelous.
We ate a chicken rice ball at a place full of malaysians :-) Yummy!
So I'm still up, music coming from the courtyard, I still have to meet Hamdan, I'm going to go the lobby and see if he's around.
I'm very pleased to have meet Sarah Adams, she is a lovely lady, she was born in England and moved years ago to Australia, she has now her Australian citizenship, funny to run into someone with a similar story on the other side of the world.
I will try to gather more info on Sarah, her riding background and her FEI history.
I understood she is closely involved in the Tom Quilty ride :-)
I probably won't post anything more today. Tomorrow, all the pre-ride organization is going on, registration, ride briefing, vetting in, etc...
I most likely will ride in the 40km since the FFE (French Equestrian Federation) has not been very helpful :-( I really need to think about getting the American citizenship!